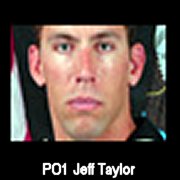 (Today's workout is in honor of Navy Petty Officer 1st Class Jeff Taylor, 30, of Little Creek, VA who was killed in Afghanistan in June 2005.)
CFHQ Hero WOD
J.T.
21-15-9
Handstand Push-ups
Ring Dips
Push-ups
32:18
Yesterday I scaled to maximize my power output but today I did not scale to increase my mental toughness. This workout creates muscle failure in the arms really fast and it does not take much for me right now as compared to 8 weeks ago. Why didn't I scale it?
1) "Constantly varied" means mix things up. It wouldn't be true to CrossFit if I scaled every workout I thought would be hard and take me a long time.
2) Mental toughness - I had to fight for just about every rep in this workout. My arms were smoked out early. Doing this will help me in other workouts to push on when I hit muscle failure.
3) I suck at Handstand Push-ups - sometimes a good way to get better at something is to just do it. In this case I pushed myself to failure and found ways to keep going.
And most importantly:
4) It's a Hero Workout - Hero workouts are designed to be tough because they honor soldiers who were killed in combat. I have had a taste of combat and I know it's never easy; the hero's we honor in these workouts are generally members of the special forces and have seen more combat than most. They are some of the best, and know how to fight hard and come out on top during impossible situations. The least I can do is dig deep in a workout to honor the fallen. Losing a comrade in battle is a terrible experience and I don't wish it upon anyone. I love CrossFit for setting up these hero workouts as a constant reminder of the brave men who fight in foreign lands every day.